APACHE TRAIL is America's Oldest Highway
State Route 88 celebrates 100 years as the "Apache Trail"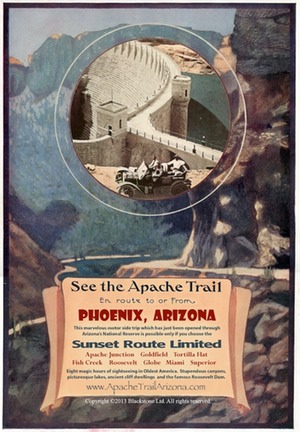 Visit the Apache Junction Chamber of Commerce located at 567 West Apache Trail in Apache Junction, Arizona or the Superstition Mountain Museum located at 4087 E. Apache Trail in Apache Junction. 
Only at these two locations can you find everything you'll need before starting the amazing journey on America's Oldest and most Ancient Highway. 
Be sure to download a printable version of the Apache Trail map on the left  before starting your adventure! 
Apache Trail Schedule of Events
Apache Jii Celebration October 18, 2014
31st Annual Apache Jii Day - all Indian celebration, Native American cuisine such as fry bread and Apache Acorn Stew, Native American singing, dancing and storytelling representing the Apache Tribe including Apache Crown Dancers, art including jewelry, clothing, dolls, pottery and more, additional entertainment by various tribes, free, 9 am - 5 pm, 928-425-4495 or 800-804-5623 or http://www.globemiamichamber.com
Dutch Hunter Rendezvous October 24 to 26, 2014 
10th Annual 2014 Dutch Hunter Rendezvous. This is a dry camp and you must bring your own food and water. You must supply your camping gear, bedrolls, lights, etc. The Rendezvous includes story telling about the Superstition Mountain and the famed lost gold in the area. Last year more than a hundred people attended. There are available restrooms. The Dons' camp is located eight miles from Highway 60 east of Apache Junction on the Peralta Trail Head road FS 77.
Apache Trail Tours | Website | (480) 982-7661
4650 N. Mammoth Mine Rd, Apache Junction, AZ 85119
The most ancient highway in all of North America, the Apache Trail flaunts its irresistible beauty with mighty canyons, jagged mountain peaks, and sparkling desert lakes while exuding the flavor and romance of the old West. As one of the most scenic drives in the country, it is also one of the most dangerous. You can enjoy it worry free as our experienced and knowledgeable tour guides weave the trails and tales that make this land so intriguing!
Superstition Mountain Museum | Website | (480) 983-4888
4087 N. Apache Trail, Apache Junction, AZ 85119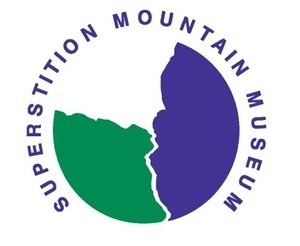 The 12.5 acre Museum site offers untold photo opportunities with it's reproductions of 19th Century businesses including a Wells Fargo office, stage coach stop, barber shop, assay office and other displays of authentic relics of the 1800′s. Visibly marked nature walks crisscross the areas surrounding the museum buildings, all located at the base of the West Wall of the beautiful  Superstition Mountain… a one of a kind location.
Apache Trail Restaurants & Saloons

Filly's Roadhouse | Website | (480) 671-3056
1615 N. Apache Trail, Apache Junction, 85119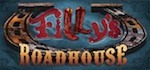 If you take the time to mosey down Apache Trail (SR 88) on your way to Canyon Lake, you will pass Filly's Roadhouse.  It isn't the biggest place around nor is it the fanciest but it sure is a place to kick back and enjoy some fun in the sun. The patio which is tucked behind the restaurant is everyone's favorite spot to kick back and enjoy an afternoon of  eating,  drinking and dancing  sprinkled with lots of laughter and good times. Bring your family, bring your friends and get ready to let your hair down.  This is country at its finest!
Hitching Post Pub | Website | (480) 983-8800
2341 N. Apache Trail, Apache Junction, 85119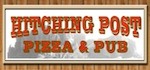 The Hitching Post Pizza Pub is located at the corner of Highway 88 and Lost Dutchman (Brown) on the way out to Canyon Lake. We are famously known for our hand-tossed homemade pizza and delicious chicken! How could anyone miss out on live entertainment 6 to 7 nights a week, good food, cold drinks, and a great staff? Come on out and join the fun, it will be hard to miss us with our giant chicken on the front patio! The Hitching Post 2 is open in Gold Canyon along Kings Ranch Road right next to the golf course!