Apache Trail Restaurants & Saloons

Filly's Roadhouse | Website | (480) 671-3056
1615 N. Apache Trail, Apache Junction, 85119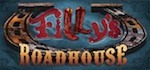 If you take the time to mosey down Apache Trail (SR 88) on your way to Canyon Lake, you will pass Filly's Roadhouse.  It isn't the biggest place around nor is it the fanciest but it sure is a place to kick back and enjoy some fun in the sun. The patio which is tucked behind the restaurant is everyone's favorite spot to kick back and enjoy an afternoon of  eating,  drinking and dancing  sprinkled with lots of laughter and good times. Bring your family, bring your friends and get ready to let your hair down.  This is country at its finest!
Hitching Post Pub | Website | (480) 983-8800
2341 N. Apache Trail, Apache Junction, 85119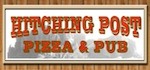 The Hitching Post Pizza Pub is located at the corner of Highway 88 and Lost Dutchman (Brown) on the way out to Canyon Lake. We are famously known for our hand-tossed homemade pizza and delicious chicken! How could anyone miss out on live entertainment 6 to 7 nights a week, good food, cold drinks, and a great staff? Come on out and join the fun, it will be hard to miss us with our giant chicken on the front patio! The Hitching Post 2 is open in Gold Canyon along Kings Ranch Road right next to the golf course!
Mining Camp Restaurant | Website | (480) 982-3181
6100 E. Mining Camp, Apache Junction, AZ 85219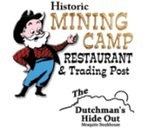 The world famous Mining Camp Restaurant opened its doors to the public in 1961. The restaurant is located at the base of the beautiful Superstition Mountains in Apache Junction, Arizona. The restaurant's unique exterior is made up of roughly sawn ponderosa pine hauled from Payson, Arizona. A replica of the old mining camp cook shanty sits today at the base of the mysterious Superstition Mountains along Apache Trail.
Mammoth Saloon | Website | (480) 983-6402
4650 N. Mammoth Mine Rd, Apache Junction, 85119
The Mammoth Steakhouse & Saloon serves Appetizers and the famous Mammoth Burgers, with the Juiciest Steaks & Coldest Drinks you'll ever lay yer hands on! Mosey down the boardwalks of this historic 1890's Ghost Town and visit the Mammoth Steakhouse & Saloon. Enjoy the authentic decor of vintage old west artifacts where you can enjoy a cold brew or sarsaparilla. The Old West Stagecoach in the Saloon is an authentic remnant from the historic town of Tombstone, Arizona. Bob Schoose purchased it back in the mid 1980's and meticulously restored it for display in the Mammoth Saloon.
Elvira's | (480) 982-9916
1520 W. Apache Trail  Apache Junction, 85120
The owners and staff of Elvira's Restaurant invite you to come and see the transformation of one of Apache Junction's oldest landmark restaurants now becoming Apache Junction's newest and finest!  Elvira's now offers an unforgettable dining experience in an incredible, authentic Mexican decor.  The fine food that has made Elvira's legendary will now be complemented with a unique dining experience as well as additional menu items. Elvira's also has added the Cantina de Valdez which offers full bar service featuring four HD televisions for your viewing pleasure.
Dirtwater Springs | Website | (480) 983-3478
586 W. Apache Trail, Apache Junction, 85120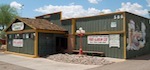 Dirtwater Springs is home of the 72 ounce U.S. Prime sirloin coined as "The Gambler's Choice' for $59.95. Eat it up and all the fixins' in one hour and you've won; they will pick up the tab. The Alaskan fried cod is an all-you-can-eat entree on Wednesdays, Fridays and Saturdays. This is a quality filet and we can see why Dick Parks is so proud of it. Last but not least you must taste one of the homemade pies, made in house by owner's wife.


Superstition Saloon | Website | (480) 984-1776
One Main Street, Tortilla Flat, 85290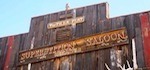 A visit to Tortilla Flat isn't complete without a stop in the Superstition Restaurant & Saloon. The decor alone will send you back in time, from the Saddle Bar Stools, to the walls of dollar bills from around the world – Oh and just so you know, The food is incredible. Our Restaurant serves the Biggest burgers, hottest chili, and coldest drinks everyday. All year we offer a mix of Sonoran Style Mexican Food, Burgers, Our World Famous Chili, Sandwiches, Appetizers, Breakfast is served daily till 10:30am.